Reliance Jio download speed topped the chart in 4G network for the month of May at an all-time high speed of 19.123 Mbps (megabit per second), as per the latest Trai's myspeed app.
According to the TRAI (Telecom Regulatory Authority of India) latest data download speed with the help of its MySpeed application on a real-time basis Jio 4G network had zoomed to the top of list of fastest mobile networks.
Jio's 4G Download Speed at an All Time High
Data Download Speed Among Other Operators
All networks trying to give their best services. Here are the network positions of download speed in the month of May.
Top in the list of networks – Reliance Jio – Download Speed – 19.12 Mbps.

Second position – Idea – Download Speed – 13.709 Mbps.

Third position – Vodafone – Download Speed – 13.387 Mbps.

Fourth position – Airtel – 10.153Mbps.
"Idea Cellular" and "Vodafone India" have announced merger of their operations to make the country's biggest mobile phone operator worth more than $23 billionwith a 35% market share. As for average speeds, we see the same order.
Jio first at 18.4Mbps

Idea at 11.8Mbps

Vodafone at 11.5Mbps

Airtel at 9.9Mbps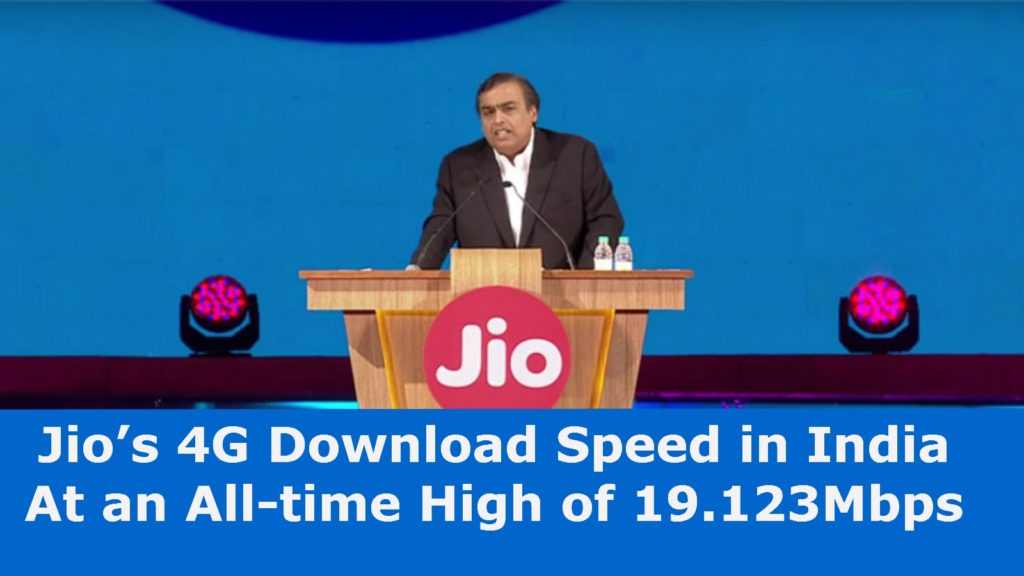 Reliance Jio4G Upload Speed inLag
When it comes to 4G upload speeds, however, the Jio 4G remains at the 3rd position for the second consecutive month.
In May, the network with the fastest 4G upload speed was Idea Cellular at 8.459Mbps. As per the monthly reports from TRAI uploads speeds of other networks as follows.
| | | | |
| --- | --- | --- | --- |
| 1. Idea Cellular | 2. Vodafone | 3. Reliance Jio | 4. Airtel |
| 8.459Mbps | 7.333Mbps | 5.275Mbps | 4.641Mbps |
As for average speeds we can see Jio position was changed it stands in fourth, Idea stands at 7.2Mbps, Vodafone at 6.8Mbps, Airtel at 4.4Mbps, and Jio at 4.3Mbps.
Compared to the previous month, all four major telecom operators saw their 4G download and upload speeds increase in May. Only because of highly competitive telecom market, since Jio's launch in September 2015 last year, it has completely surprised up the market and pushed competitors like Airtel and Vodafone to dramatically lower their rates and introduce new plans and offers. Reliance Jio when it launched services in September last year.
Free for the first six months as welcome offer, Jio services became paid in April but the recharge tariffs are too low at roughly Rs. 10 per day. This has compelled Airtel, Idea, Vodafone and other networks. However, Jio has hit back at them with a complaint about the customised plans that cater to users' consumption patterns.
For the latest Jio news and offers, follow Jiouser onTwitter andFacebook.