JioGST: Reliance Jio Telecom Company always come up with surprises for its customers, Today (July 1, 2017) Jio announced the JioFi JioGST STARTER KIT on its website which will offer software solutions for a year. Well GST(Good & Service Tax) becomes a reality today to building a news India through One Nation, One Tax, One Market. With the same new move Reliance Jio has taken one step ahead and aware their millions of customers to be immediate Get JioGST Started Kit.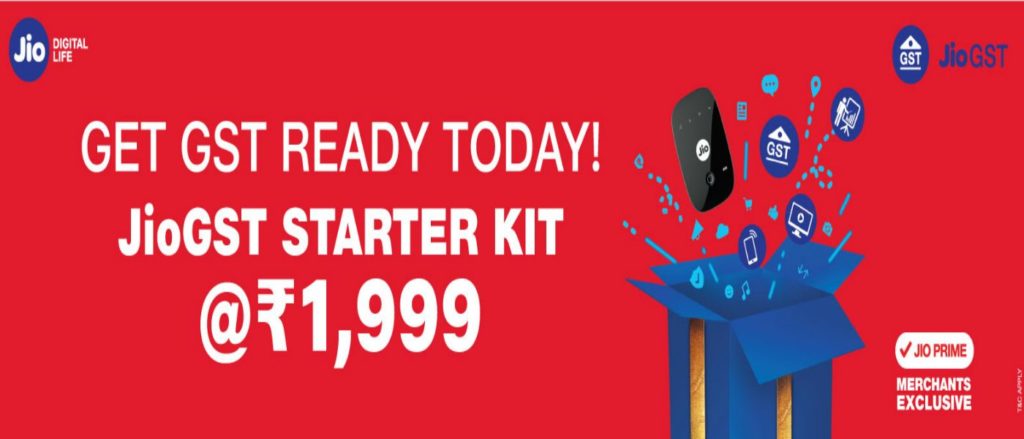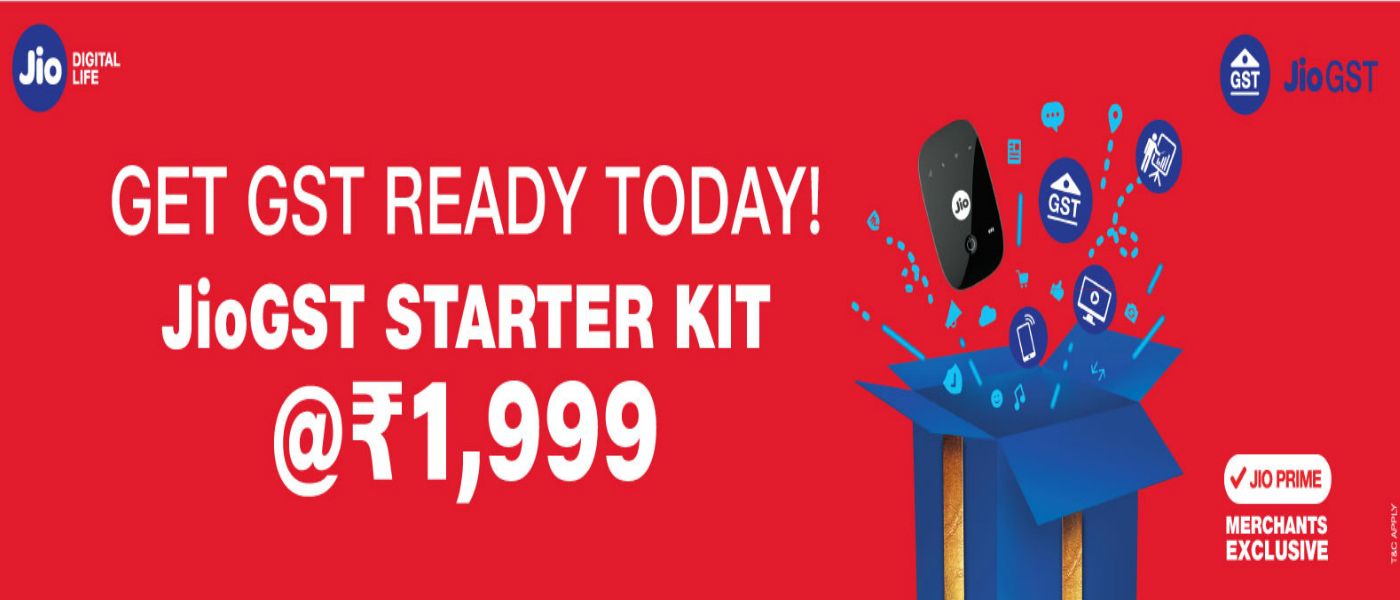 What is JioGST Starter Kit?
JioGST is a Mobile-First Compliance Solution. It will help us by providing Free GSP & ASP software service for 1 year.
Through GSP, it allows user or taxpayers to execute the provisions of GST through the online platform. A GSP is considered as an enabler for the taxpayer to comply with the provisions of the GST law through the web platform.
GSP Role in GST:
GSP stands for "GST Suvidha Provider". GSP has the Government authorization.Now Taxpayers and Individuals use GSP system to file their returns through web platform.
Government controls all the GSP's related matters and it follows the rules and regulations as per the MoU. For this an agreement was signed between GSTN (a government body) and GSP.

By using GSP and ASP taxpayers and individuals can file their returns in online. This system of GSP and ASP provides an easy way to users and taxpayers in filing returns, you just simply fill necessary details and then the returns will be automatically calculated.

This system has the additional feature and it takes the details of the taxpayer and by using those details for conversion of GST returns.
ASP Role in GST:
ASP stands for "Application Service Provider". The taxpayer can file their GST taxes with the support of ASP partners or existing software. Through ASPs software, the taxpayer and consultants can manage the sale or purchase of goods and services and GST filing.
A large number of companies have options to file return via Application Service Provider (ASP). In ASP, organizations or businesses must have to share the detailed data of sales and purchase of Goods and Services to the ASP. After then ASP providers will prepare the GST Returns and file the returns through GSP (GST Suvidha Provider).
JioFi JioGST STARTER KIT
Get GST Ready Today – With JioGST STARTER KIT @Only Just Rs. 1,999
JioGST Software Solution for 1 year

Unlimited Voice + 24GB Data for 1 year

JioFi Device

Billing App and much more

Doorstep SIM activation in select cities
Get GST Ready Buy JioFi JioGST Started Kit
First Visit: JioGSToffer page.

Check Availability by entering your local PIN code.

Enter Num. of quantity and add the Item to cart.

Go to Jio cart and proceed to checkout.

Enter your personal information such as Name, Mobile number, Email ID and click on continue.

Then select your preferred payment option to process payment instantly or chose COD (Cash on delivery) option to complete your order.
How do avail the benefits of JioGST Starter Kit
Order JioGST Starter Kit on Jio.com

Once the JioFi device is delivered, visit your nearest Reliance Digital / DX Mini /Jio Store with the JioFi original invoice & JioFi Box for availing Jio SIM (Carry your local Aadhaar card for completing the activation through e-KYC. (For Jio SIM home delivery, refer below "Important Points to know about JIO SIM Home Delivery")

You will get a Jio SIM activated with a "Rs.149/-X 12 months + Rs. 99 (Jio Prime Membership)" plan

Visit JioGST.com to register & create an account (if you have not created already)

Log in to your account on JioGST.com, select your GSTIN & pair your JioFi MSISDN to activate you JioGST Starter Kit

Enjoy the benefits
There are two types of Registrations 1) Tax Payer 2) Tax Practitioner
– Create Your JioGST Tax Practitioner Account
Create an account by filling all these fields: Organisation Name, PAN Number, Organisation Type, Practicing as, Practicing location, Practicing since, Address, Number of Clients handled presently, Key Professional Qualification – with Registration Number and Contact Details.
– Create Your JioGST Tax Payer Account
Create an account by filling all these fields: Organisation Name, PAN Number, Organisation Type, Address, and Contact Details.