JioPhone: Here's how to pre-booking for Jiophone|Reliance Jio's 4G feature phone is all set to come in the mobile market as Jio will start bookings for JioPhone August 24, 2017. The phone will be given on the 'first come, first serve basis'. Jio has launched different types of booking options, those are a form for online registration, offline by visiting nearest Jio Store and sending SMS to 7021170211. People who are interested in buying Jio Phone can now register online on Jio's official website or SMS. Jio Phone, targeted at 500 million existing feature phone users into 4G subscribers in the country.
Jio Phone Booking Starts From 5:30 PM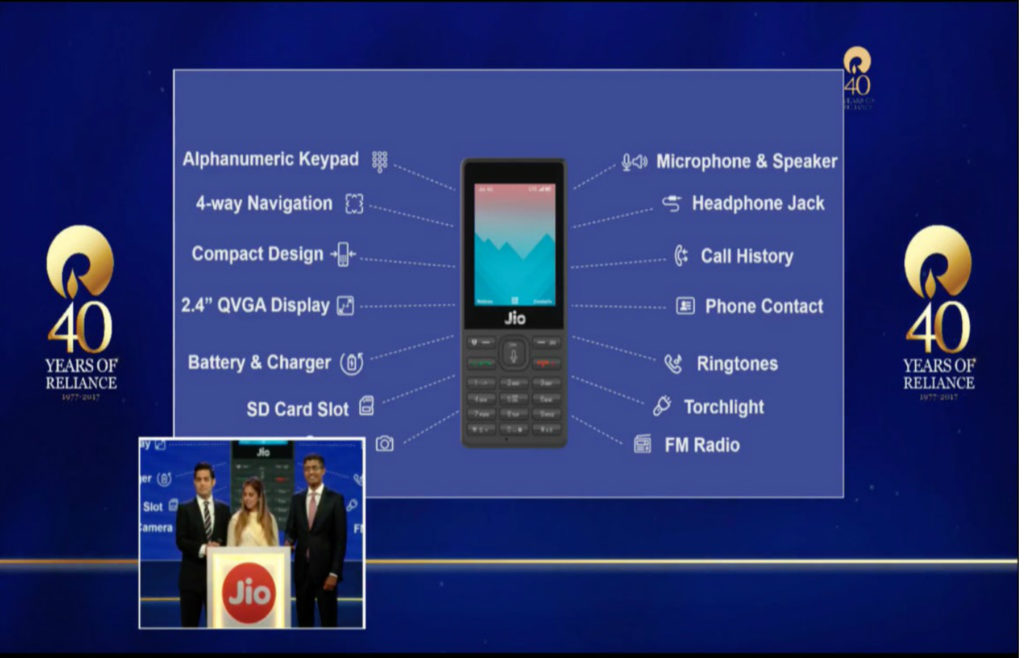 Reliance Jio Phone Booking Online
Jiophone will be available for pre-booking from August 24 on payment of a refundable security deposit of Rs 1,500. This deposit amount will be refunded after 36 months on the return of the Jiophone and this is how the price of the phone will be effectively zero. The Reliance company has already tested in beta mode began on August 15 by Jio Phone's user. Reliance Jio, the fourth-generation telecom arm of Reliance Industries, introduced new tariff plan on the Jiophone for Rs 153 per month.
How to Book JioPhone Procedures
Interestingly, users can now register their interest in the Jio Phone online, offline and via SMS. Jio Phone will be available in 24 regional language support, and users can communicate with the Jio Phone via voice commands.
Interested buyers first need to visit the site

www.jio.com

Express your Interest for JioPhone Clicking on 'Keep me posted' link on Jio home page.

The web link leads into Registration Interest Page.

Share your details with Jio they will update Jiophone Booking information.

Register your Interest as Individual or Business.

Fill the First Name – Last Name – Email ID – Phone Number – Pincode, complete form and accept the terms & Conditions then click on submit button.

Once submitted you will receive a mobile message for confirming interest. (message: "Dear Customer Thank you for your interest in Jiophone India Ka smart Phone. We will keep you updated about the developments related to this phone. Thank you. Team Jio)

On 24th August, You'll be invited to pre-booking Jio Phone.

The delivery of Jio phone will starts from September 2017.
Even business customers can pre-book the JioPhone. It's easy to pre-book the JioPhone for Business activities, if you have an access to the internet. All you need to visit the Jio.com and Express your Interest for JioPhone Clicking on 'Keep me posted' link on Jio home page. By Selecting Business tag fill the details such as Contact name, Company name, Pincode, PAN number or GSTN (optional), email and contact number.Once
Once a Business customer fills the contact info, few more details are required to specify how many units required and includes an additional option for choosing JioFi Wifi portable hotspot device units. Once submitted you will receive a mobile message for confirming interest. Though it's not clear, if the price of the JioPhone will be different for businesses.
Jio Phone Booking Offline
Some people may not access the internet, for them Reliance Jio Store can help the customer in pre-book the Reliance Jio Phone. Just you need to walk-in into any offline Jio store to register your interest in the Jio Phone. (Note: However, users need to keep one thing in mind that they won't be able to buy the Jio Phone before September).
Here's How You Can Pre-Register the Jio Phone via SMS
You will need to Type as JP <space> your location pin code <space> Jio store code near your area. Now send the message to 702 11 702 11. Once you send the SMS to show your interest, you will get a "Thank You" message from Reliance Jio. JioPhone Pre-Booking via MyJio App. Existing Jio subscribers can register their interest for JioPhone via MyJio app.