In India, we know many people have 3G smartphones. Very few might have 4G devices from last 2 years. Phones which doesn't support 4G network can make use of JioFi wireless router to make calls, SMS from any 2G/3G smartphone.
You may think that Jio only works with 4G smartphones. Reliance Jio Digital Services PVT LTD., has made it possible for the users who wish to enjoy 4G services on any second and third generation mobiles using the "JioFi" 2 wireless router without upgrade to 4G smartphones.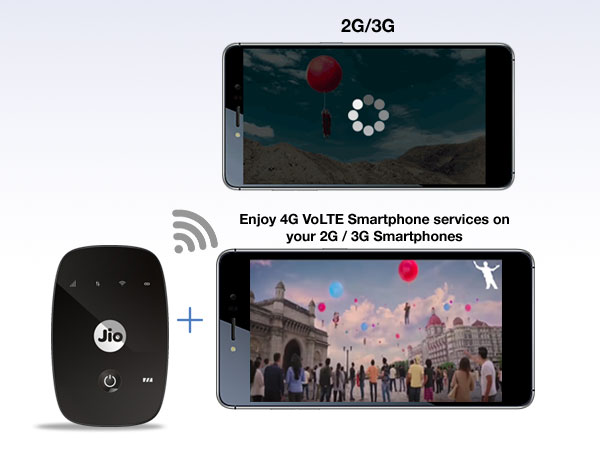 How to Make Phone Calls Using JioFi 2 Router
The JioFi device is available in all the Reliance Jio stores and online also. All the 2G/3G smartphones can now experience the services of 4G network with this router. This service will enable family members at homes or the entire staff at small enterprises to be connected to Jio Digital Life. Using JioJoin app via JioFi device will enable the users to make conference calls without going to other apps. You can also Share files on any format is possible along with images.
RelianceJioJoin appin LYF mobiles powered JioFi device will make any phone VoLTE ready as per the company's statement.
Here is how you go about making phone calls using the JioFi 2 personal router:
In this article, we are going to know making phone calls using the JioFi 2 personal wifi router. Here is the step-by-step guide.
First, you need to install Jio4GVoice app from Google PlayStore on your (in 2G/3G smartphones).

Connect to your JioFi 2 router on WiFi.

After installing you will have to open the app, and close and open again and then click on the pin below the JioJoin logo.

Then the mobile device will register with JioFi SIM on your alternate phone number.

You will receive an OTP message on your alternate mobile number which was given at the time of registration. Use the OTP to register your phone with the service.

The app will show a notification which is registering with JioFi SIM, and it will finish in few seconds. Once done just skip through the features and you will land on the main dialer interface.

Once your device is activated, you will receive a message on your alternate number i.e "services on your Jio 4G number have been activated".

After Jio 4G services activated you need to do Tele-verification from the Jio join app by calling 1977. Before

call

please keep the documents given during registration.

You will be asked to enter the last 4 digits of the ID you will use like Voter ID

car

, or AADHAAR number or PAN.

Once the ID details are verified, the voice call, SMS and data services will be activated on

you

Jio SIM card.
Now you can make calls using the Jio Join app to any number/any network for free. Both local as well as STD calls, are free. You can also make video calls and send SMS.
Note: Keep Jio Join app always active on your mobile and also JioFi hotspot connected or else you can't receive phone calls or messages.
Now, just make a comment below about call quality, when you call using Jio Join to a 2G/3G connection call quality. It will helpful for who want to buy JioFi device.