Xiaomi Partners with Reliance Jio to Offer 30GB Extra 4G Data to Mi Users
Xiaomi smartphone users can avail up to 30GB extra 4G data for six recharge cycles with recharge of Rs 309 or above on Jio's 4G network. The offer is applicable to Mi subscribers enrolling between June 16, 2017, and March 31, 2018.
The additional 30GB of 4G speed data for six months will be applicable to new Mi users with Jio network subscription. There is a limit – Eligible Xiaomi smartphone new users will get 5GB data per month for six billing cycles.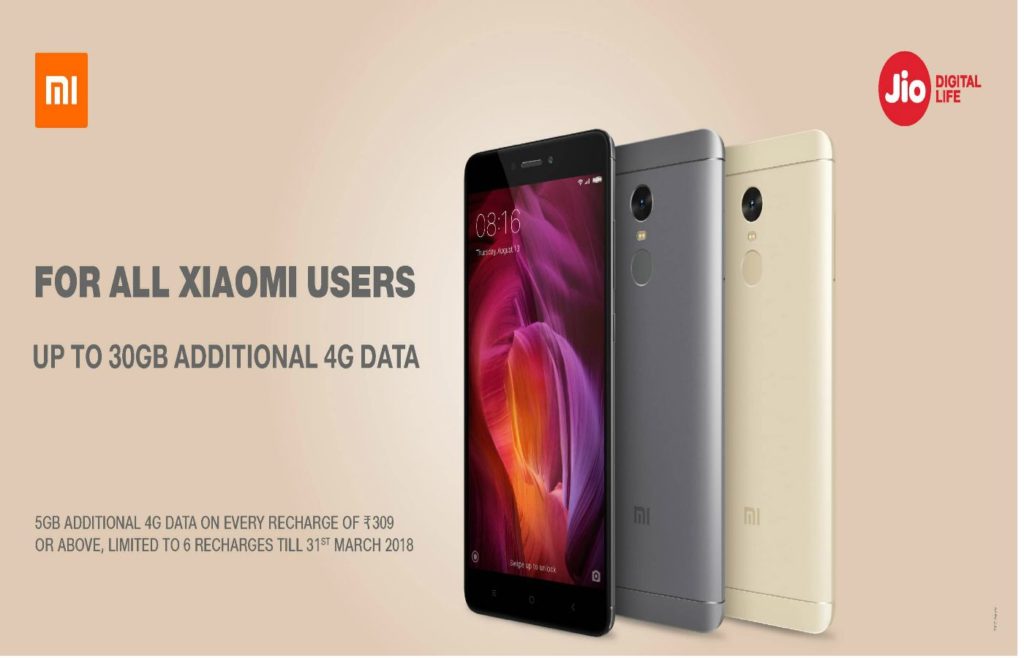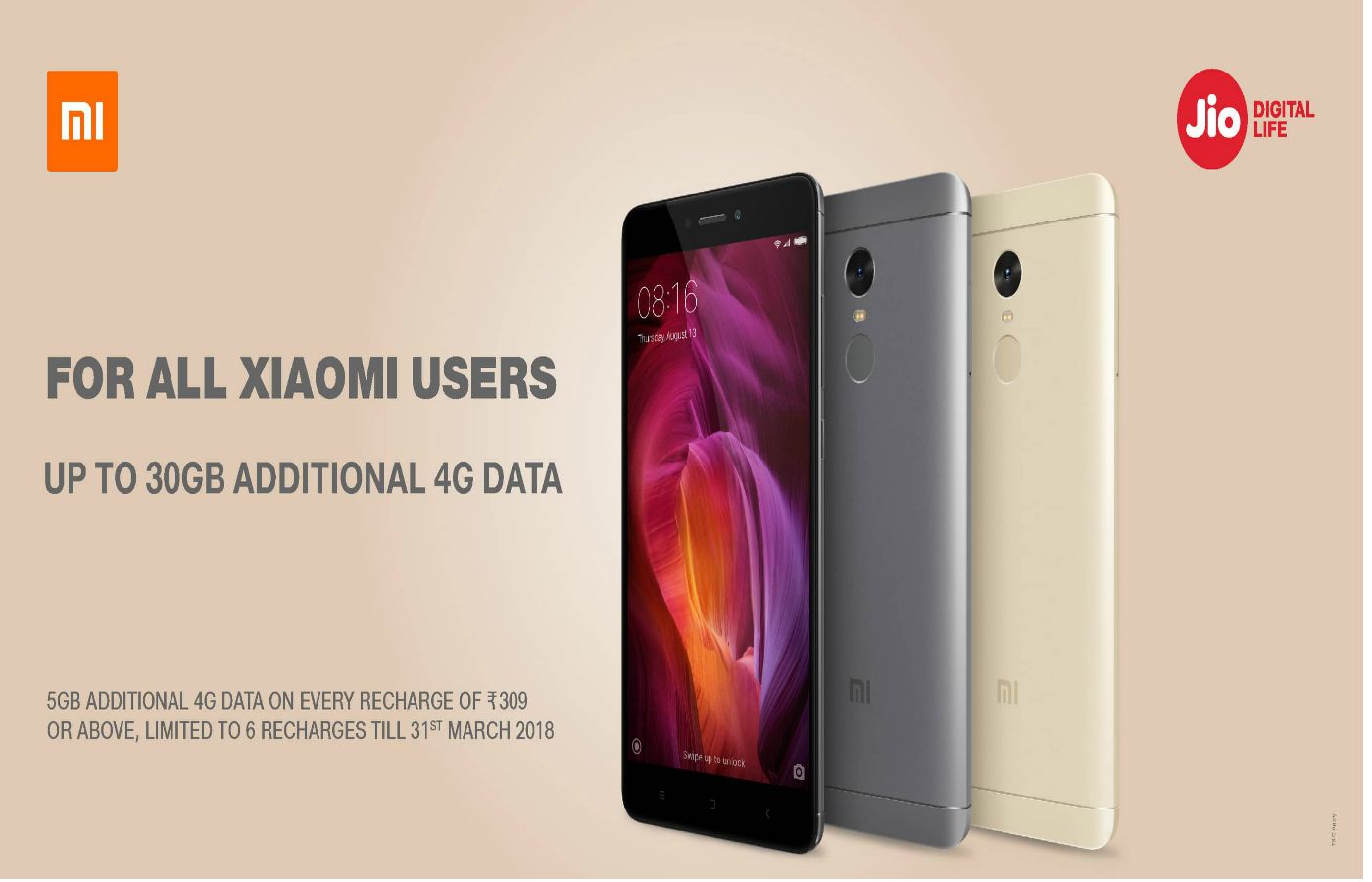 Get 30GB Additional Reliance Jio 4G Data on Xiaomi Smartphones
Important Points
This offer is valid until March 31st, 2018
To activate additional data benefit you need to download the Myjio App.
On Jio App – Top Left corner ->Under My Vouchers section you can find the Jio recharge plan details.
Recharge Jio mobile number with Rs 309 or above. You can also recharge from Jio Stores,
Once recharge was done, the additional 5GB of 4G data will be credited within 48 hours of recharge.
Here one thing the user has to be remembering i.e the additional 4G data that you get extra cannot be carried forward to the next month as it will expire at the end of the every recharge cycle. In simple mathematical explanation is 5GB of data for 6 consecutive recharges (it means 5GB*6M=30GB for 6Months).
Eligible Mi Mobiles for Jio Additional 4G Data Offer
This offer is only applicable for selected Xiaomi's smart-mobiles:
Redmi 2, Redmi 2 Prime, Redmi Note 4G, Redmi Note 4G Prime, Mi 4i, Redmi Note 3, Mi 5, Mi Max, Mi Max Prime, Redmi 3s, Redmi 3s Plus, Redmi 3s Prime, Redmi Note 4, Redmi 4A and the Redmi 4.
Here's How to Get the Mi Offer:
After you bought the Mi mobile and subscribe to the new Jio SIM on new Device.
Download MyJio Android App on your Mi Phones.
Activate your Jio Number from your nearest Jio Stores.
Open My Jio App-> My Vouchers -> View Voucher -> Click on "Buy" button (select the additional data plan amount only, those are Rs 309 or above) Recharge my number -> Confirm Recharge-> Successful Recharge Notification.
Thereafter, the applicable Additional Data Vouchers shall reflect under the My Plans section.
Some more DATA Offers
Well, not only Redmi, but Gionee India also announced its partnership with Reliance Jio. The Chinese smartphone maker announced to offer up to 60GB of 4G data on purchase of Gionee mobiles and with a subscription of Jio. Similar to Xiaomi, this offer is also applicable to select Gionee devices, which include – Gionee Pioneer P5L, Gionee P7, Gionee Elife S6, Gionee Elife S7, Gionee Marathon M5, Gionee S Plus, Gionee S6s, Gionee F103 Pro, Gionee Marathon M5 lite CDMA, Gionee Marathon M4 , Marathon M5 Lite, Gionee P7 Max, Gionee F103, Gionee A1, Gionee Marathon M5 Plus, Gionee S6 Pro, and Gionee Elife E8. Read more..
Furthermore, Samsung has also tied up with Reliance Jio and will be offering double data offer – 28GB + 28GB data to the customers at Rs 310 to Samsung Tab S3 buyers. The offer is valid up to December 31, 2017.
If you have further any doubts comment below we will help you out. And For the latest Jio news and Jio offers, follow Jiouser on Twitter, Facebook, and subscribe to our Google+ Community.