Hai guys, Hope You Are Enjoying Jiouser latest updates, today I want to write a guide to check for Jio Prime membership plan details like validity and balance in order to purchase the next recharge pack in time and not lose out on the benefits of their existing top-ups. So I decided to come up with this post and here you are reading it! This may actually help you to know your Jio SIM card offer details.
How to Check Jio Plan's Validity?
Here we make a step by step Process How To check Summer Surprise plan validity on Your Jio number Just follow below steps.
How to Check Jio Summer Surprise Offer Validity
As we know soon Reliance Jio's Summer Surprise Offer to end soon, under which its Prime members enjoyed 4G data and free voice call services at a low cost of just Rs. 309 with 84 days validity, will end in few days. The Customer of Jio's paid Prime service, from the last 2 months enjoying High-Speed 4G data and free voice calls with a recharge of Rs. 309 or above, will be required to purchase a subsequent recharge soon to continue the benefits of their ongoing plans. So it is important for Prime users to know their plan details like validity and balance in order to purchase the next recharge plan in time and not lose out on the benefits of their existing top-ups if any.
Also Read: Reliance Jio offering up to 224 GB Data to New JioFi Users
There are two ways Jio customer can check their Reliance Jio plan details.
One is through the MyJio app

The second method is through the official website – jio.com.
How to check plan details by using MyJio App: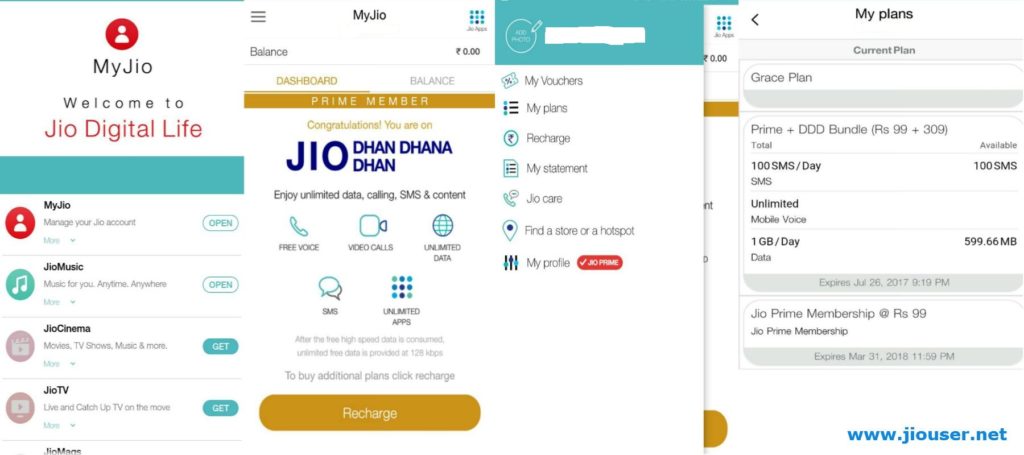 Go to MyJio app and login into Your MyJio account using Jio Number and Password or through the OTP SIM verification.

Once open the app you can find your the balance details on top right-hand side. If you have activated the "Summer Surprise Offer" or "Jio Dhana Dhan Offer" and has not done any other top up for additional data or for international roaming, then your balance will be shown as zero.

To know the validity of your existing plan, Go to my plans under the main menu button on the top left hand side. A new window will show you the plan under which you are currently registered & its expiry of Prime and DDD Bundle. And also it will show the amount of SMS, Mobile Voice and Data available for the day.
How to check plan details online by using jio.com:
This is the second method to Check Your Plan's Validity, just follow below step by step guide.

In your web browser type the www.jio.com, and click on enter

You need to Sign In here by using your Jio Number.
One easy Process I will explain here
 How to login Jio.com
Click on "Sign In" Category

In new window find "Sign In Using OTP"

Enter your "Jio Mobile Number" in the textBox.

And Click on "Get OTP"

You will receive One Time Password (OTP) to your register Jio Number, OTP enters in below the Jio number.

Then Click on Sign In. Automatically One new screen will be displayed on your screen, it shows all summary of Plan details about your Jio number. Once refer the below screen shot.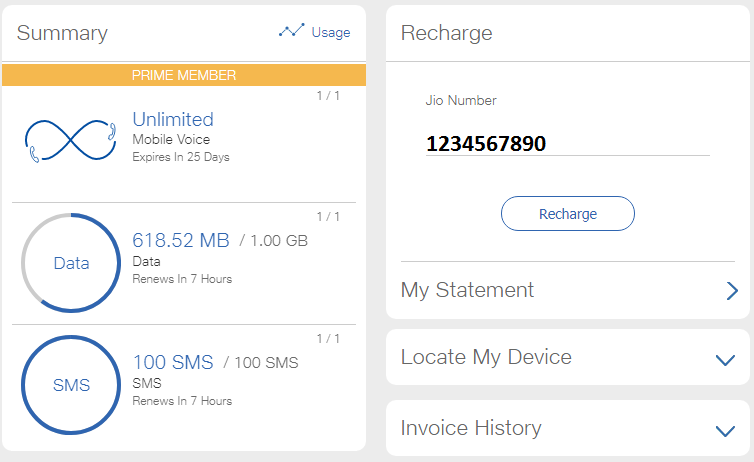 More Jio Updates:
JioFi Plan Offering 90-minutes Home Delivery
Jio New Tariff Plans After July 2017
Reliance Jio Launches 25,000 km long Submarine Cable System