Reliance Jio is now offering the JioFi 4G hotspot home delivery service within 90-minutes to your address. But this new impressive fast delivery is available in select cities only. Also, Jio is offering 100% cash back offer on the old dongle exchange for the new JioFi, Jiofi hotspot free home delivery along with 4G card. Under these plans, users can get the best ever digital store support. The cashback offer is listed on the Jio website under the devices segment. JioFi device is a Pocket WiFi router, which lets users rely on a Jio SIM to set up a WiFi modem and connect other devices.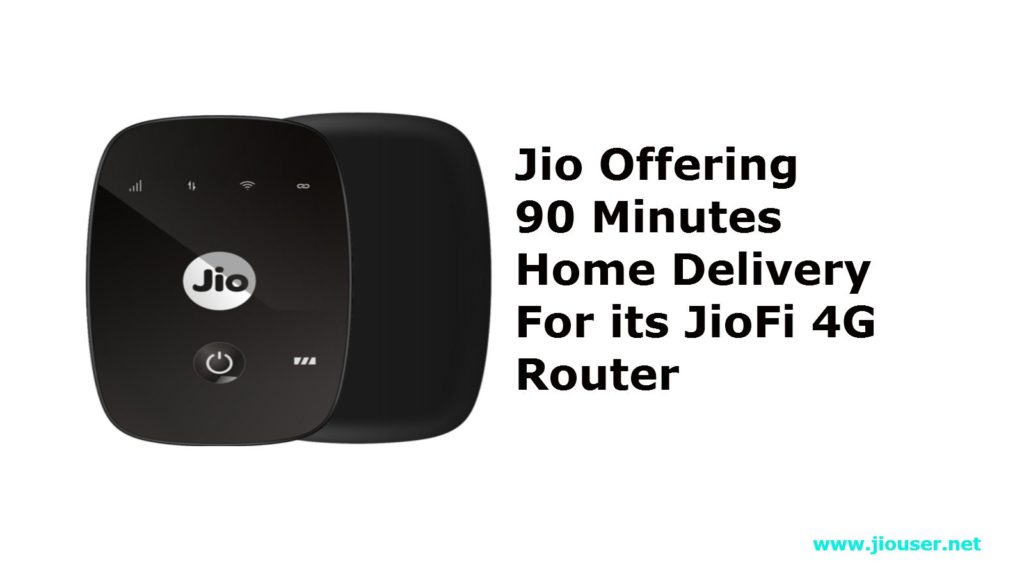 More From Jiouser:
JioFi 4G Hotspot Home Delivery
Check the details of Reliance Jio free home delivery options and how to avail the offers from this article.
Reliance Jio is currently offering free home delivery of its Jio SIM in more than 600+ towns and additionally encouraging to deliver JioFi 4G Hotspot to your doorstep in 90 minutes.
JioFi 100-Percent Cashback Offer
Under the JioFi 100-percent cash back offer, users get benefits worth Rs. 2,010 (Rs. 201 data booster x 10 vouchers) and you can avail offer on exchange their old dongle (should be working condition).
The new user needs to pay for JioFi price is Rs.1999/- and you will benefit worth Rs. 1,005 (Rs. 201 data booster x 5 vouchers) leading to effective price of Rs 994/- for the new JioFi. If the express delivery is not applicable, then the go with standard delivery it will take three to five working days.
Reliance Jio is not charging any amount to home deliver the JioFi & Jio SIM. Firstly, download the MyJio app from Play store, generate a coupon in the app, and book an appointment online to get the SIM/Dongle delivered. Keep your Aadhaar number ready for eKYC purposes and generating the coupon on the app.
What is the JioFi Device Price?
The Best JioFi portable 4G WiFi router of the second generation price is Rs. 1999. The new device price is same as that of the previous version of Jio-Fi.
There are four different versions changed of JioFi Router, they all differ in specs and look.
JioFi 1: The First JioFi pocket router released in July.

JioFi 2: This version is the good number selling among all the versions which is still available across all the Jio stores.

JioFi 3: This is the upgraded version of JioFi 2 with new OLED display on the front which shows you the battery level, Network Signals, and Connectivity.

JioFi 4: This is the latest release of JioFi series and it's not yet available across all the Jio stores. It can be used for seamless connectivity while using it on personal PC or Laptop.
How to Buy JioFi router
LYF-powered JioFi device is available at all Reliance Digital stores, Dx Mini Stores and jio.com.Clickto buy.
To avail for the free delivery of the JioFi, you have registered on the Jio website. Before, check your pincode on Availability check box. If the service is available in your area or particular pincode, this will be shown below "Express Delivery (Select Localities): Can schedule delivery as early as 90 minutes from available slots." Then Register with email ID, Aadhar number, Address and Contact details. After that you will receive an email with an unique ID provided for the purchase.
JioFi Features – Specifications
Model

M2

No of Devices Supported

Recommended 10 (Wi-Fi)+1 USB tethering

Standard

WAN: LTE (2300/1800/850MHz)

IEEE 802.11b/g/n 2.4G only

Power Supply

AC: 100-240V

DC:5V&1A

Dimensions

85 mm * 55 mm * 16 mm

External Interface

Micro-SD Card, Micro-USB Port, Nano SIM

Battery Capacity

2300mAh, support 5-6 hours

Speed

Download Speed: 150Mbps

Upload Speed: 50Mbps

Best Battery

Built-in rechargeable battery