Get Reliance Jio SIM Home Delivery: Reliance Jio is now offering free home delivery of Jio 4G SIM Cards across 600+ towns, which is certainly a first for the telecom market in India. Jio started user service centers in all top iconic cities to give more Jio user support in near areas. The Jio Free SIM home delivery program going on and individuals easily can receive an invite to schedule a Jio SIM delivery at home at a time of their choice.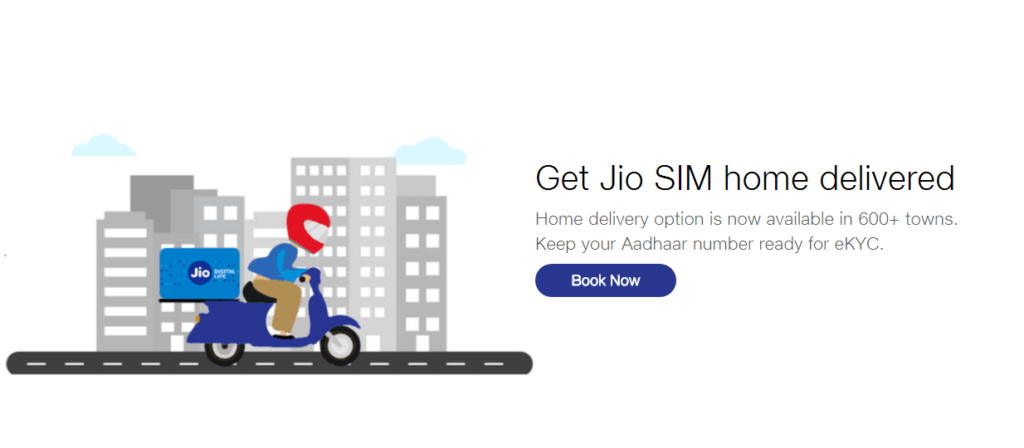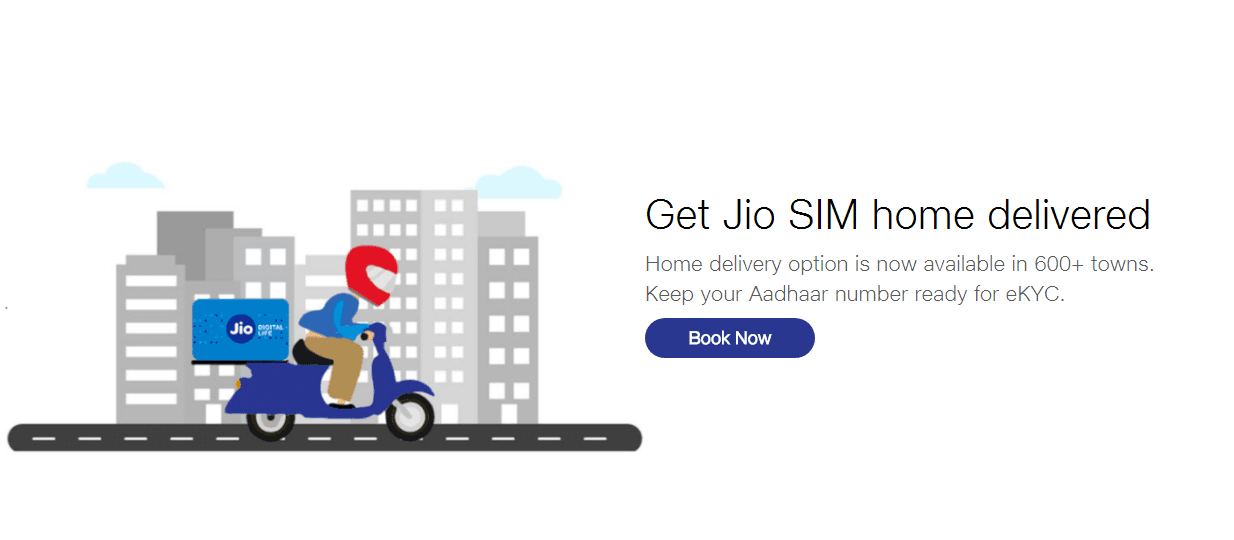 More from Jio user:
Main thing business people can use this offer; Jio is offering housing societies and offices the option to invite a company representative to set up a desk where users can get a SIM activated instantly through their Aadhar card.
Get Jio SIM Home Delivery
Users can avail home delivery of Jio SIM through Jio official portal or by giving a missed call to 1-800-200-200-9 and get the invite link. Before invitation, here we have to clear home delivery service is available for your pincode, if there is available you will receive an invitation email on the email ID provided for the purchase.
How to Get Reliance Jio SIM Free Home Delivery
In a first for the telecom market, Jio has decided to offer free home delivery for individuals of their SIM Cards, across 600 Indian towns. Jio is not charging any amount to home deliver the Jio SIM.
Firstly, download the MyJio app from Playstore, generate a coupon in the app, and book an appointment online to get the SIM delivered. Keep your Aadhaar number ready for eKYC purposes and generating the coupon on the app.
Jio Door Step Delivery of Jio SIMs Registration Process
Three Easy Steps
Download MyJio Android/Apple Phones

Register with Aadhar Number for eKYC purposes and Generate coupon in MyJio App

Book an appointment when will you want receive and get your favorite network Jio SIM home Delivery.
Note:Keep your Aadhar Number Ready for eKYC verification is mandatory. Jio SIM Home Delivery Conditions
If you have completed the process, Jio connection will be instant activated JIO DHAN DHANA DHAN offer and you can start enjoying the unlimited benefits of Jio Welcome offer.
JioFi 4G Hotspot Home Delivery
Reliance Jio is also offering to deliver the JioFi 4G Pocket Wifi modem to your home address in less than 90 minutes in select cities only.
MyJio APP Download
MyJio offers more, user can enjoy the unlimited internet, Messages access to its apps. It includes JioMusic, JioCinema, JioTV, JioMags, JioXpressNews, JioChat, Jio4GVoice, JioMoney, JioNewsPaper, AJIO, JioHealthHub, JioSecurity, JioCloud, NetVelocity, JioNet and JioSwith for better experiences. The company is offering a free subscription for these apps who are interested can utilize Jio app free services.
For the latest Jio news and Jio offers, follow Jiouser onTwitter,Facebook, and subscribe to ourGoogle+ Community.