Mukesh Ambani led Reliance group claims the initiator badge for bringing the Jio 4G voice LTE technology to India. Undoubtedly, the technology has raised the Indian telecom standards to next level. Yet, there is another advancement to get the best advantage of the Jio 4G voice call. The company has developed Jio 4G voice app to provide the best video and voice call experience for its users. These Jio voice apps come with RCS (Rich Communication Services) features and provide users the perks of using 4G voice technology. The best part is that these Jio voice call app download brings VoLTE feature in 3G or 2G smartphone. All you have to do is download Jio 4G voice app and get crystal clear in video and voice call.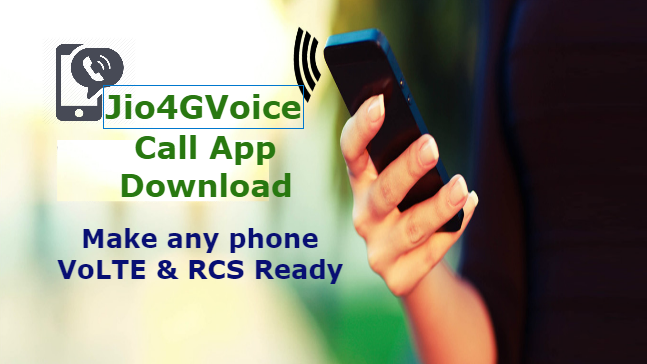 Jio 4G Voice App Features:
There are a slew of features which definitely makes this app a stand out from many other Jio 4G voice call apps.
Get the best HD Video and voice call experience with RCS Rich communication services on your android 4G smartphone.

Convert any 2G or 3G smartphone VoLTE Enabled with the help of Jio4GVoice and a JioFi wireless modem by Reliance Jio.

Users can also make a call to other service providers mobile and land phone number.

Users can select the way to call, via phone network or Jio4GVoice app from the dial pad itself

Jio 4G Voice App adds more value by using RCS which allows users to share much content over chat, call or even video call.

The urgency messages feature notifies the urgency of the call to the receiver.

Connects up to 4 users in a video conference and up to 6 users in audio conference.

Thousands of emojis and stickers to express your emotions.
Download Jio 4G Voice App for Android: Install Jio Voice app
The app is available for download at Google Play store and users can download it directly. The latest Jio 4G voice update brings much better quality. However, the app is also made available for iOS users to enjoy the most out of Jio 4G voice for iPhone.
Installing the 4G voice from Jio is so simple and easy to perform. All you have to do is download Jio 4G voice app from the trusted source and install it on your smartphone. At times you might get abort, just check settings and accept from "Unknown sources". Once the installation is done, users can enjoy unlimited voice and video calls at high quality. The only downside of the app is it doesn't offer you call recording or any such privileges. Nevertheless, the company can consider providing it as many users wish to have Jio 4G voice call recorder.
How to make calls in Jio 4G voice:
The developers tout this app is highly efficient to make video calls on par with audio calls. However, team Jio has successfully proved to be an efficient 4G VoLTE service provides. Firstly, users need to turn on their mobile data for make call from Jio 4G voice app. Open the app and choose the number of the recipient or dial the number. Now just tap on the call button like you do for a regular call.
The app also provides added features like photo sharing and location sharing as well. As mentioned earlier, users can also caution urgency for recipients by leaving a short message. Lastly, the app runs only when both the caller and recipient use Jio network or Jio 4G voice app.
Read More