Jio Phone Hotspot: The Jio feature phone was first introduced at the AGM of Reliance. Jio last year launched few amazing features for Jio Phone WhatsApp, Jio Phone Facebook and Google Maps. However, one thing missing from the list of Jio Phone features was the ability to connect a hotspot to share the internet connection with other mobile devices. And now the Jio wants to work on the Jio Phone hotspot functionality for the device, Jio Phone update may soon bring WiFi hotspot feature to allow internet sharing with other phones.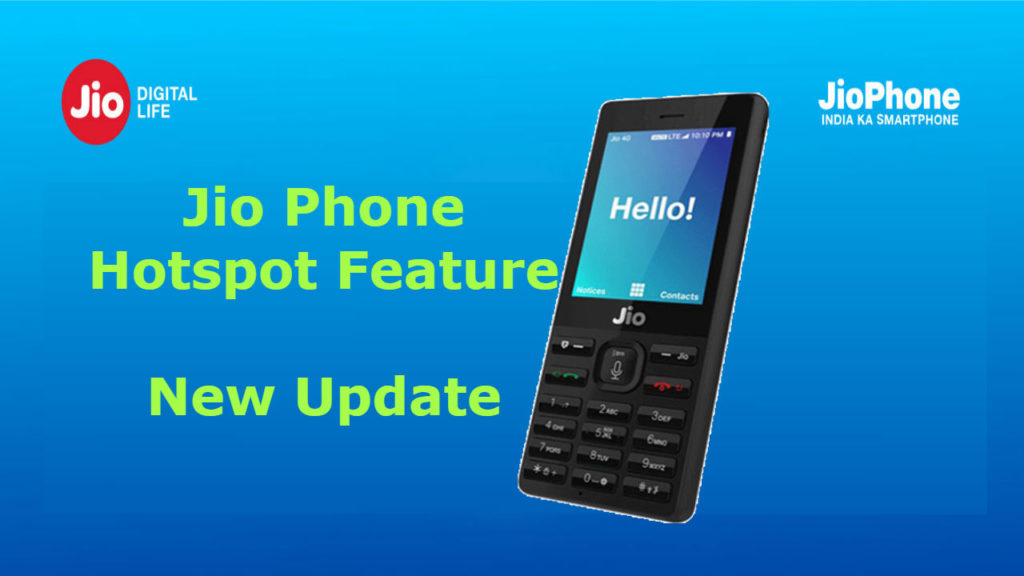 Jio Phone Hotspot
The Jio Phone Hotspot functionality will get via a new update, after the company makes an announcement on Jio Phone hotspot for 4G Data sharing. You can check for it in the Internet Sharing option inside the Settings. If it does not list the Wi-Fi hotspot option, then you need to check whether the handset has a pending software update. If not, then you will have to wait a few more days for the update that brings the long-awaited feature.
How to Activate WiFi Hotspot on Jio Phone
To activate hotspot on your Jio Phone go to the settings -> select the Networks -> Connectivity menu.

Next tap on the Internet Sharing option and you will see WiFi hotspot option which is turned off by default -> Turn it on.

If you want you can change default name and password for the hotspot connection. You will find a hotspot icon in the notification upon successful establishment of the network.
Now, you can turn on hotspot by tapping on it. Once the Jio Phone hotspot is turned on, you will see an icon in the notification bar on top. With this option, we can share the 4G data with family/friends on multiple devices at the same time, including smartphones, tablets, and laptops.
Jio Phone or Jio Phone 2
Jio Phone 2 price Rs 2,999: The Jio Phone 2 supports dual-SIM slots allowing for two nano SIM cards. The latest Jio mobile comes with 2.4-inch QVGA display with a full QWERTY keyboard and a wide horizontal screen, 4-way navigation key with a dedicated key for voice commands. It runs on KaiOS based 4G VoLTe enabled feature mobile and has a 512MB RAM and 4GB of internal storage which can be expandable with up to 128GB with the help of microSD card. With optics, this phone integrates a 2MP back and a VGA front camera sensor and a Battery is at 2000mAh.
Jio Phone Price Rs 1500: The Feature Jio Phone is a 4G and VoLTE enabled mobile from Reliance. It has a single Nano-SIM slot and works only on the Reliance Jio SIM. And also has a 2.4-inch display with a resolution of 240 x 320 pixels. It had a D-pad for navigation and a number pad for dialing and typing. Powering the phone is a dual-core processor along with 512MB of RAM. There is 4GB of internal storage which is shared between user storage, apps and software updates. We can expandable Storage via a microSD card slot upto 128GB. The phone runs on KaiOS and has all complimentary MyJio apps preinstalled. Jio Phone has a basic voice assistant.
I think this article will give you the complete details regardingReliance Jio Phone Hotspot Settings. Please share it with your family and friends making it much more memorable.
If you have further any doubts aboutHow to Activate Jio Phone Hotspotplease write a comment on below we will help you out. And For the more latest Jio news and Jio offers, follow Jiouser onTwitter,Facebook, and subscribe to ourGoogle+Community.