Jio is reportedly testing a new Triple Play Plan for some of its GigaFiber subscribers. The plan will offer Jio Home TV, High-Speed Data, Calling, Jio Apps and IPTV benefits under a single monthly Plan. Although Reliance Jio has started introducing Jio Gigafiber connections in a few selected cities around India, the company looks to enter the fiber broadband industry with attractive plans and preview offers.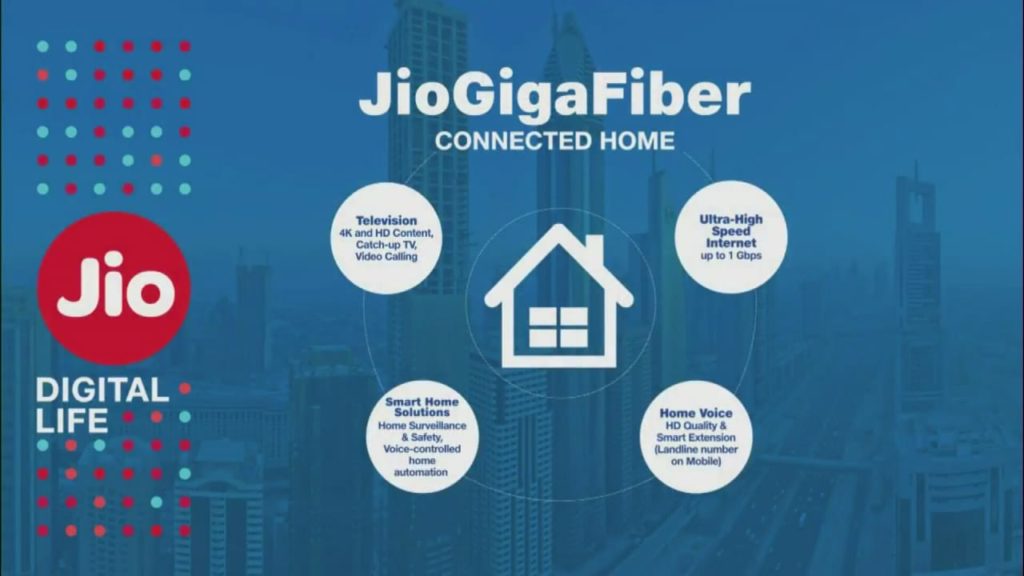 We knew Jio has offered GigaFiber services to consumers in the form of a beta test under the Preview offer across the country at selected cities. Existing subscribers have been enjoying complimentary access to 3 months of 100GB data along with options to increase the limit in the form of coupons. However, with commercial rollout set to be initiated soon, Jio seems to be testing a new Triple Play Plan for GigaFiber subscribers.
Reliance Jio Gigafiber Triple Play Plan
According to the online news websites, Jio GigaFiber services rollout in the near future. The telecom updates said this new Jio Triple Play plan offering internet, voice calling, Jio TV subscription and access to the MyJio apps.
Whereas the exact price of the JioFiber Triple Play is still unknown, some other details have surfaced. According to available details, the plan will offer 100GB Data at high-speed of 100Mbps for 28 days. In addition unlimited voice calling, Jio Home TV subscription and access to all Jio apps. The mention of a "Jio Home TV subscription" could mean that it will be the name of "Jio's IPTV Subscription".
Jio Triple Play Plan Offers
The Triple Play plan will combine the subscriptions for data, voice, and Jio TV Home services under one bill, along with accessing to MyJio Apps. But as of now, new reports say Triple Play plan is currently limited to Jio employees.
If the Jio Fiber Triple Play Plan rolling out soon then all we will have the convenience to recharge and use everything under one single plan and one single bill. It will include the wired broadband connection, Home TV and premium apps subscription.
Furthermore, Read more about services like Jio SIM, Jio Recharges and Jio Mobiles.
Reliance Jio GigaFiber Update Info
Although the pilot testing for Reliance Jio's FTTH has been ongoing for a few months now, the Jio is to the process of doing reaching out to both independent homes and apartments for the "Area Ready for Sale" (RFS) rollout for its GigaFiber services.