Jio has announced a Rs 500 cashback to compete the competitors by boost the sales of its JioFi device. Users need to buy JioFi device and a postpaid SIM to get JioFi cashback offer. Under the new cashback offer, the customer can get cashback of Rs 500 on JioFi router, which brings down the effective JioFi price to Rs 499. To avail the JioFi offer, you must purchase a new JioFi along with a new Jio postpaid SIM and use that SIM in the JioFi device. Jio, said in a statement, that the offer will be on sale from July 3, 2018.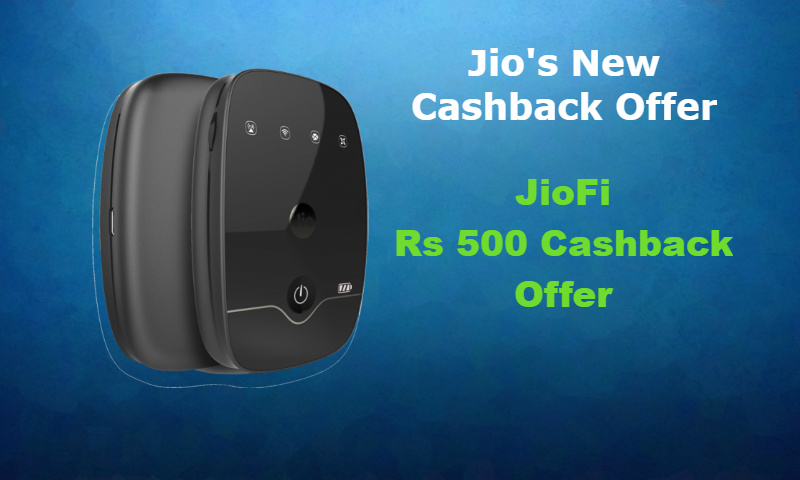 JioFi Rs 500 Cashback Offer
The offer is effective started from July 3, and there is no last date revealed so far. The JioFi Datacard is available to purchase fromJio Store, as well as e-commerce websites such as Amazon and Flipkart, among others.
The JioFi cashback of Rs 500 will be credited in the customer postpaid account of the 12 months usage. The user must buy Jio post paid recharge plan of Rs. 199, and pay the bill for the same for 12 months. After the end of 12th-month payment, you will get Rs. 500 cashback in the form of credit which will be adjusted against the next bill cycles.So the Rs 500 cashback would be credited to the postpaid account in the form of Credit.
For those unaware, Jio postpaid plan offer at Rs. 199. We updated new Recharge Plan details here, once go through it to know the more info.
Here's How to get Reliance Jio JioFi cashback offer:
The Rs 500 cashback will not be offered in the form of money offer would be credited in the form of 'Credit' of the eligible customer account.

To get the cashback, a customer has to pay monthly invoices bills for 12 consecutive cycles from the date of purchase.

Rs 500 credit received by the Eligible Customer shall be automatically redeemed in subsequent postpaid invoice of the Eligible Customer.
Jio Post Paid Plan Rs 199 Details
Recently launched a postpaid Jio Rs 199 plan which offers 25GB 4G data, Unlimited voice calls, Complementary MyJioApp Subscription and 100 SMS per day. And also offers International calling (ISD) at 50p/min for certain countries.
Jio 199 Plan Details

Plan

Rs 199

Pack validity (days)

Bill Cycle

Total Data

25 GB (thereafter Rs 20 Per one GB)

Voice

Unlimited

Jio Apps

Complimentary Subscription

International Calling

50 paisa per minute
On May 10th 2018 unveiled this offer, Jio has only one postpaid Rs 199 plan comes high-speed 4G data. "Jio Postpaid brings a differentiated connected living experience to postpaid users and will once again challenge the industry status quo by offering the lowest tariffs in India and abroad to the postpaid users, who end up paying disproportionately higher as compared to the prepaid segment," the telco said in a statement announcing the new Jio 199 plan.
ISD is Pre-Activated on the Jio Postpaid Plan
The Mukesh Ambani-owned company says ISD calls will be available to all subscribers of the Jio 199 postpaid plan, without the need of activation or any security deposit. Additionally, the company is touting easy "one-click" activation of international roaming for all takers of this plan, when needed.
The offer is effective started from July 3, and there is no last date revealed so far. The JioFi Hotspot is available to purchase from Jio Store, Amazon and Flipkart.
I think this article will give you the complete details regarding Reliance Jio Offers Rs 500 cashback on JioFi Hotspot Device. Please share it with your family and friends making it much more memorable.
If you have further any doubts please write a comment on below we will help you out. And For the more latest Jio news and Jio offers, follow Jiouser onTwitter,Facebook, and subscribe to ourGoogle+Community.